New Yanoff Demonstration Page!
Servers and Polling
Mail Servers now support authentication and all servers support several new Poll and Newsgroup Preferences which allow users to trade speed and/or accuracy for memory (RAM) as they see fit.
Newsgroups
Long (wide) NG names on the NG list screen and also on the article list (NG) screen's Title Bar are more sensibly contracted. Also, the Newsgroup Preferences are greatly expanded including two new "Max" options that work together with the new "killfile" feature stop most NG spam (which tends to be unnaturally high in lines and also heavily crossposted). There are also many new "Goto" menu actions and even more ButtonActions™ which greatly enhance navigation through the articles and NG lists.
Articles
Articles may be trimmed in many new ways and not solely automatically (at poll time as was the case previously) but also manually at the user's discretion. Global Find and intra-article find are now fully supported making New Yanoff a very capable solution for a personal Knowledge Base utility.
Preferences enhancing all screens
There are many new options to fine tune your user experience including the ability to tone down or even eliminate confirmation alerts! The addition of configurable sounds allows long operations to be monitored aurally and allows for clearer and more obvious feedback (i.e. "beeps" are "bad") for various events.
Event and Port Logging
Previously, all user notifications were done by Alerts at the time the event (i.e. error) occurred which resulted in the suspension of the activity being performed until you closed the Alert window. Event logging, including user notifications, is now completely configurable. When logs are turned off or sent to MemoPad, polling and other long duration operations can proceed uninterrupted without the need for user supervision! In addition, the actual SMTP/NNTP port session can be logged which greatly assists in troubleshooting.
ButtonActions™
All 3 main screens have programmable ButtonActions™ wich allow the 6 standard "hard" buttons, FiveWay/JogDial controls and up to 3 "soft" (on-screen) buttons to be configured to suit your personal preferences! This really is the "killer feature" of New Yanoff that no user should be without! The 2nd screen of controls (bottom row of picturers above) is only available to Yanoff+ users.
Hi-Res, Alternate Fonts, & Landscape support!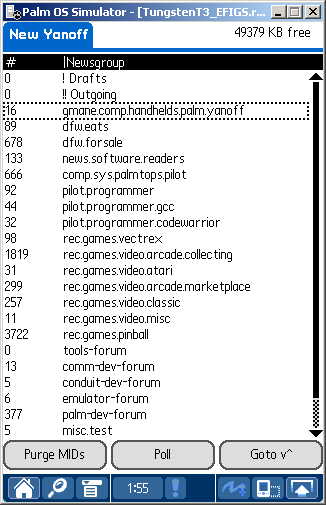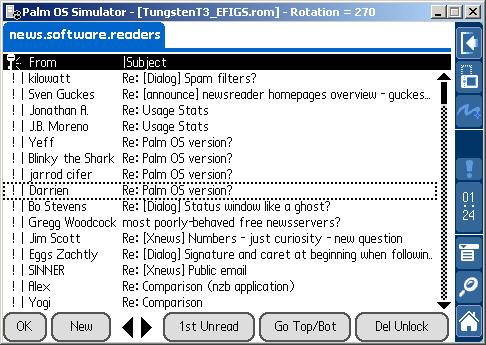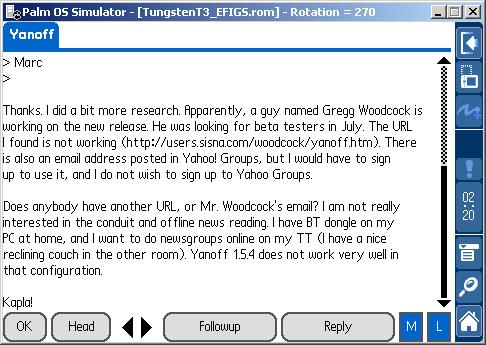 All 3 main screens fully support all the latest hardware, OS variants and Font Software and the enhanced functionality which they provide. The above shots were taken using Tungsten 3 hardware using both Fonts4OS5 and FontSubst software. Even though the Font software "works" for all versions of New Yanoff, use of any extensible screen area is only made available to to Yanoff+ users.
Are the screens really color?
No, that's just the way the debugging emulator displays them. All screens, even on color PDAs, are black, gray, and white. The color in these examples provides good contrasts making it easier to see which fields are editable text fields and which screens are of a similar type.
---